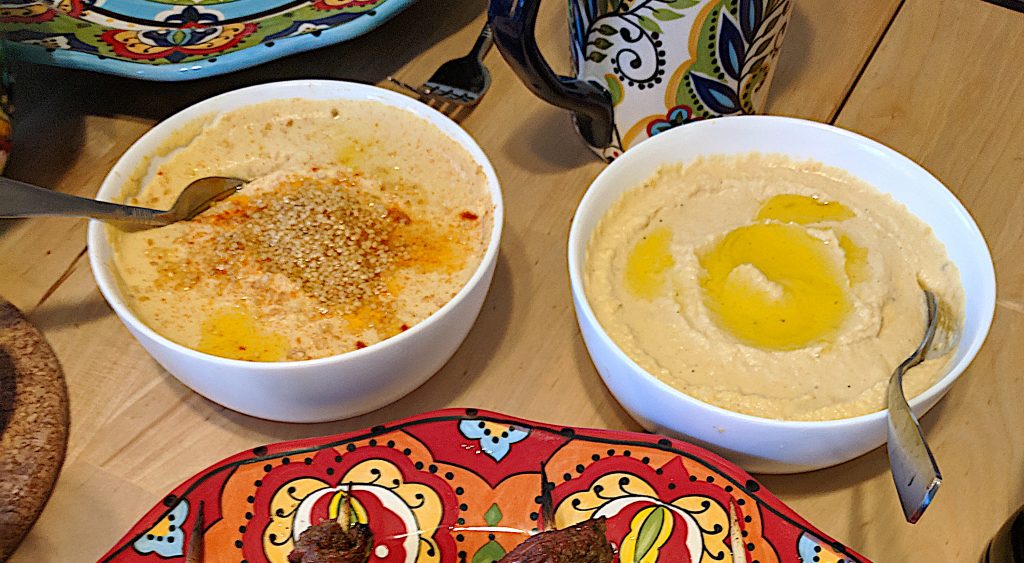 Cooking time: 1 hr
Prep time: 1 day
Special equipment: spice grinder (optional), blender
Ingredients
3 large handfuls of dried chickpeas (called garbanzo beans in the US)
juice of 1 lemon
1 garlic clove; lightly fry this first if you want a milder hummus
1 tbsp olive oil
baking soda
salt
a few tbsp of sesame seeds (substitute tahini if you don't have a spice grinder)
Put your chickpeas in a bowl and cover with cold water. Add 1/2 tsp of baking soda to the water — this will help loosen the skins. Leave to sit overnight.
The next day, strain the chickpeas discarding the water. Boil in a large pan for an hour with 1/2 tsp of baking soda. Then strain and discard the liquid.
Wash the chickpeas with cold water repeatedly and gently rub the skins off. They're a little lighter than the chickpeas so you can pick them out as you swirl the chickpeas around, but expect to spend 15 mins on this at least. While not an absolute requirement, omitting the skins will help make your hummus extra smooth. And if you weren't after the perfect hummus, you'd have bought it from the store right? Good food requires sacrifice!
Next step is to make the tahini. You'll need a spice grinder. Something cheap like this one would work fine. But if you don't have a spice grinder, buy premade tahini and skip this step. Toast your seeds in a non-stick frying pan, keeping them moving so they don't burn. They should brown a little, and smell amazing. Into the grinder they go, get them to a smooth paste/powder.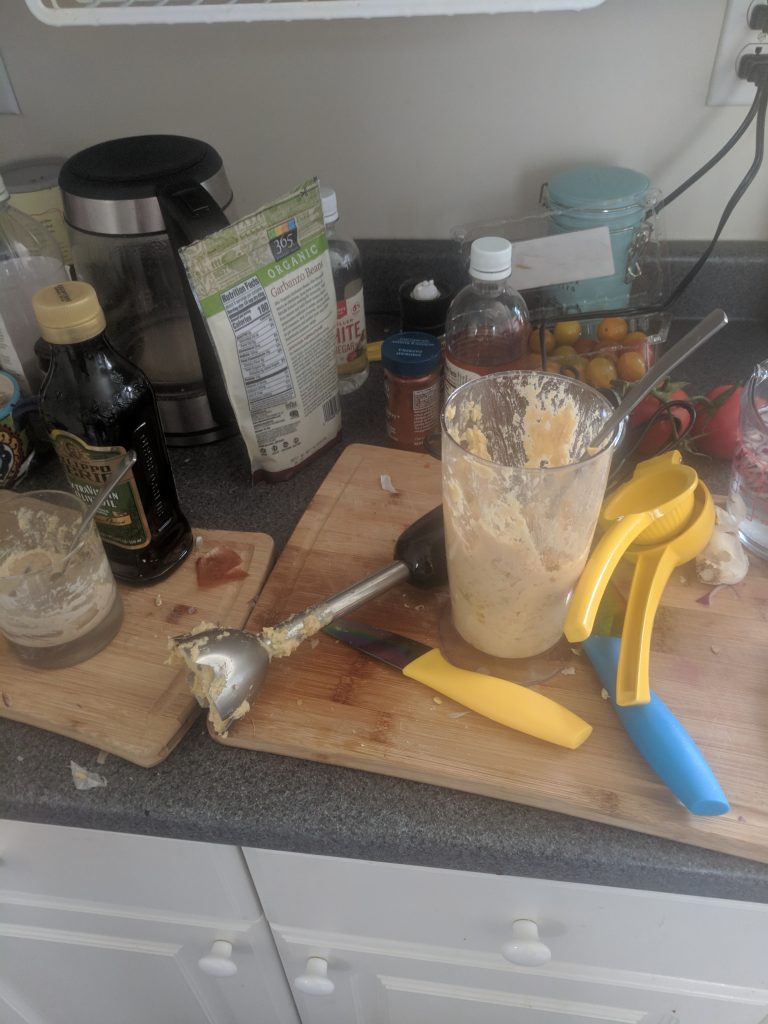 Save a few chickpeas to serve as a garnish. Then add the ground sesame seeds, garlic to the chickpeas and blend to a puree. The next step is to season with lemon juice and salt. No measuring here — let your taste guide you! When you're happy with it, garnish with fresh chopped herbs like parsley or cilantro, with sesame seeds and olive oil, with the chickpeas you reserved, or with paprika.