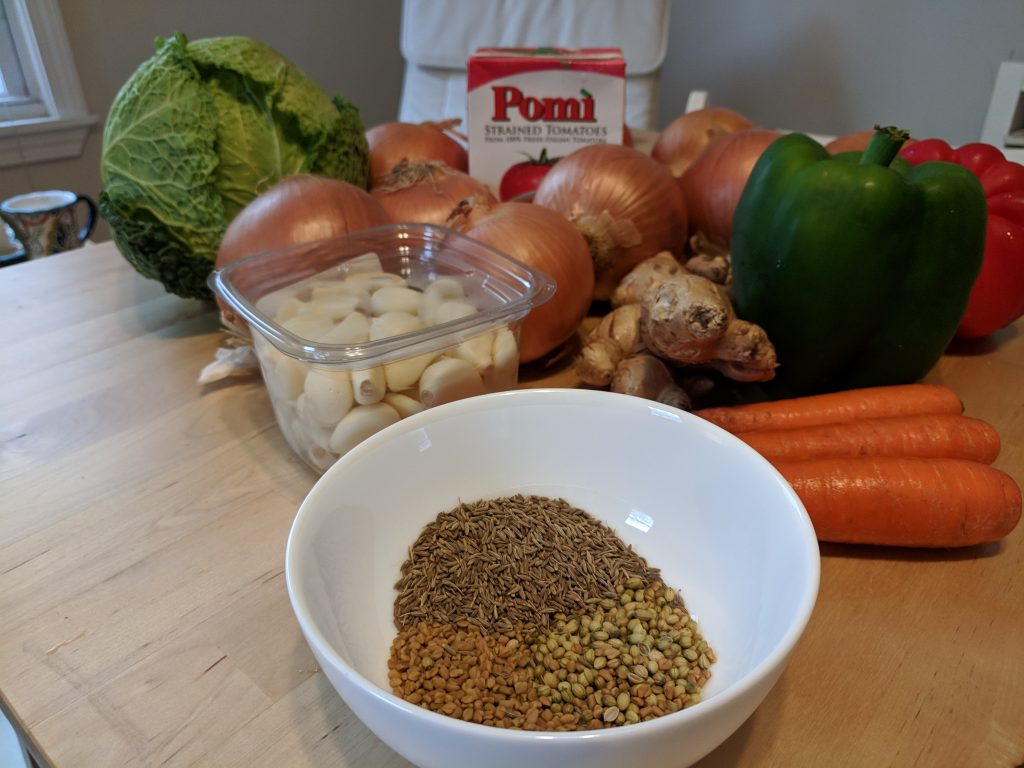 I use this recipe as a base of all my curries. It's a wonder ingredient, a flavourful but non-spicy sauce that you can use in anything from kormas to vindaloos, and it keeps for months in the freezer. This recipe takes over an hour, but makes ~15 portions of base sauce. This is a good activity for a rainy Sunday afternoon. Keep things simple — don't make it the day your guests are coming for dinner! This is one to make in advance.
A friend I bumped into on the way to buy onions
Equipment required: blender, large non-stick pan
Total time: ~2 hrs
1/4 of a cabbage
a couple of carrots, chopped
7 large brown onions, sliced
1/2 tsp salt
two bell peppers, peel removed then sliced
1 tbsp each of ground cumin, ground turmeric, ground fenugreek, ground coriander, paprika (smoked or unsmoked, either is fine)
half a dozen garlic cloves, finely minced or squashed into a puree
a similar volume of fresh ginger root, grated
100ml of neutral vegetable oil (e.g. sunflower, groundnut, not olive)
can of sieved tomatoes (sometimes called 'passata')
Add carrots, onions, peppers, salt, cabbage to hot oil in a large non-stick pan. Fry until the onions are lightly browned, probably 30 mins+, stirring ever few minutes. Add garlic, ginger and spices (fresh ground spices are always best — you can get a grinder very cheaply on Amazon). Add tomatoes, then simmer for 30 mins. Allow to cool, then blend thoroughly. No lumps!
Freeze in portions. The beauty of this sauce is that you can use it as a base for almost any curry. It's inoffensive without being bland, not spicy but still flavourful. For a korma, you'd add cream, coconut milk, sugar. For bhuna, add garlic, ginger, spices, chillies and some tomato paste.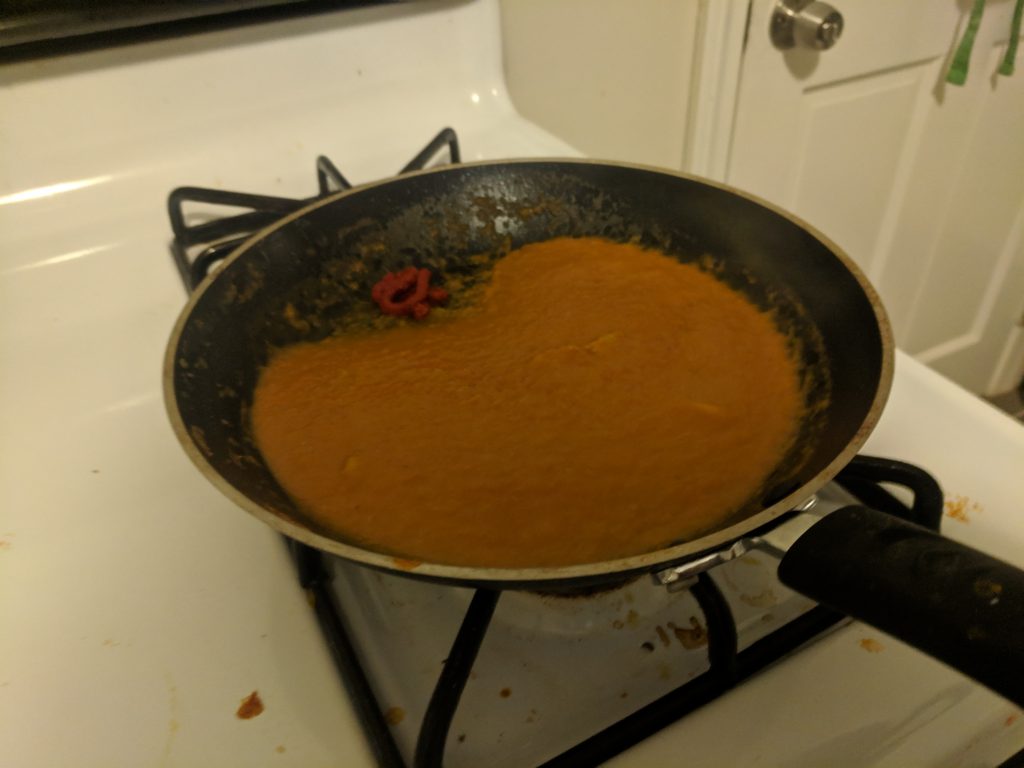 The sauce is thick to save freezer space; when you make a curry from it, you'll want to add some water to bring it to a more traditional consistency. As an ingredient rather than a finished dish, it's also under-salted — this lets you control the seasoning of the finished dish — so remember to add salt right before you serve up any curry you make from it.